Outdoor rugs are a fantastic way to bring comfort, color, and style to your outdoor space. These rugs offer an excellent opportunity to create a warm and inviting atmosphere that allows you to relax and unwind in the comfort of your outdoor living area.
Specifically designed for outdoor use, these rugs are made from weather-resistant materials that are capable of handling different weather conditions, including rain, wind, and sun. They have become increasingly popular over the years as they offer several benefits to homeowners looking to improve their outdoor space. Flatwoven details with 100% UV Stabilized Polypropylene, St. Thomas from All Seasons Collection by Masland offers effortless durability and flawless appeal.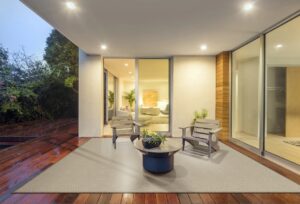 Outdoor rugs come in a wide range of sizes, shapes, and colors, making it easy to choose a rug that complements your decor style. Whether you prefer a solid-colored rug or a vividly patterned one, there is something for everyone. You can select a unique and elegant rug for your outdoor seating area or add a fun and vibrant rug to your children's play area.
An outdoor rug can also help you define different areas of your outdoor space, just like in your home. For instance, a smaller, colorful rug can be used to define an intimate seating area or a sitting arrangement around a fire pit. For a covered patio you can have a larger rug to outline the space that is fully covered. Visually it makes the space larger and creates a cozy feel.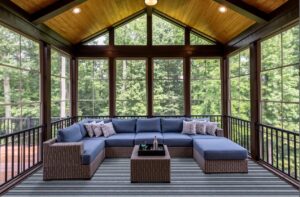 Aside from their aesthetic purposes, outdoor rugs can also provide functional benefits such as improved safety. Rugs that are slip-resistant or made from soft materials provide an extra non-slip layer for patios, balconies, or decks. They also protect your floors from scratches, spills, and stains, making it easier to clean and maintain your outdoor living space.
Outdoor rugs are a great choice for anyone looking to spruce up their outdoor space. With their ability to improve the look and feel of outdoor areas combined with their practical benefits, they offer a fantastic investment for enhancing your summer entertainment or relaxation area. Bring life to your outdoor space with an outdoor rug and make the most of your summer experience.
Stop by Renovation Flooring showroom today to see a great selection of our indoor and outdoor rugs by Masland, Fabrica and other brands.