Can you believe it's already that time to start planning for the holidays?! With kids going back-to-school it is the perfect time to refresh your home and create a welcoming atmosphere for your guests. Upgrading your flooring can not only enhance the overall look of your home but also create a warm and inviting atmosphere for the holiday season. Here are some tips to consider:
Choose the Right Type of Flooring
There are various options to choose from, such as hardwood, laminate, vinyl, carpet, and tile. Each has its own advantages and considerations.
Hardwood provides a classic and elegant look
Laminate and vinyl are more affordable and durable options
Carpeting offers warmth and comfort
Tile is ideal for high-traffic areas and moisture-prone spaces
Consider Your Needs
Think about the areas you plan to renovate and your lifestyle. If you have kids or pets, consider flooring that is scratch-resistant and easy to clean. For high-traffic areas like the living room or entryway, choose a durable and stain-resistant material. If you or someone in your household has allergies, you may want to choose a flooring that doesn't trap dust and allergens.
Color and Style
Select a flooring color and style that complements your existing décor and holiday theme. Warm, neutral tones like beige, tan, and brown are versatile options that will never go out of style. If you want something more daring, you can opt for a bold color or pattern to make a statement. In our design showroom, we have many samples for you to see, and our team is happy to assist in selecting the perfect flooring for your home.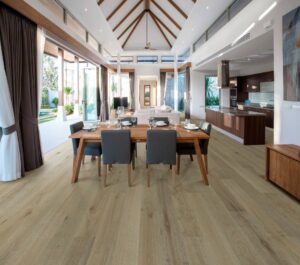 Set a Budget
Flooring pricing can range depending on the type of material and installation. Set a budget for your flooring project. Consider the cost of the flooring material, installation, and any additional materials or services needed. Contact our knowledgeable flooring specialists and they can help you figure out the budget and installation costs.
Plan Ahead for Installation Time
Flooring installation can take some time, depending on the type of flooring and the size of the area. Plan ahead and schedule the installation with enough time before the holidays to avoid any last-minute stress. Factor in time for removal and disposal of existing flooring, ordering and delivery of materials, and acclimation time (if needed) before installation.
Add Area Rugs
Add area rugs to enhance the holiday theme and provide extra warmth and comfort. They also protect your flooring from scratches and wear and tear. Consider a rug that complements your flooring color and style and adds a pop of holiday cheer. We currently offer a discount on all Fabrica and Masland Carpet custom rugs (including large size rugs!) with the purchase of select hardwood and LVP. Stop by our design showroom for samples.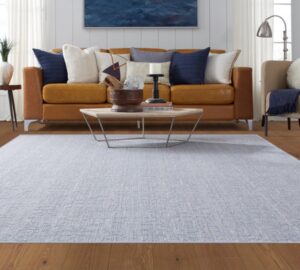 Maintenance
After installation, follow the manufacturer's instructions for maintenance to keep your new flooring in top condition for years to come. Maintaining your new flooring is essential to keep it in top condition for years to come. It's important to use appropriate cleaners and tools. For example, avoid using harsh chemicals and abrasive tools on hardwood floors, and use a vacuum with a beater bar on carpeting. Consider scheduling professional cleaning every 12-18 months to keep your floors looking their best.
Remember, starting your flooring project well before the holidays is essential to give yourself enough time for planning, purchasing, and installation. A beautiful new floor can significantly enhance your holiday season, making it a memorable and inviting time for you and your guests.