If you're looking for premium hardwood floors then look no further than DuChateau!
DUCHATEAU is known for its unparalleled marriage of old-world, traditional craftsmanship with natural materials and state-of-the-art technology. Their flooring products often feature unique textures, finishes, and distressing techniques that give the wood a rustic, antique look. This creates a distinctive and stylish appearance that many homeowners and designers appreciate.
Producing high-quality and luxurious hardwood flooring options for residential and commercial spaces, DuChateau is renowned for its focus on craftsmanship, innovative designs, and sustainable practices. They are proud to support the environment through the DUGOOD initiative, which plants a tree for every hardwood floor sold.
Their two newest collections are Global Winds and Terra.
The Global Winds Collection™ is the embodiment of DUCHATEAU's passion for the raw, natural beauty of hardwood. Each Global Winds style appears to be created by the elements of sun, wind and time which have matured the color from within, letting the true soul of the wood shine through. Reflecting this connection to nature, each floor is named after one of the unique local winds found across the globe: Sirocco, Levante, Chinook, Mistral, Harmattan, and Buran.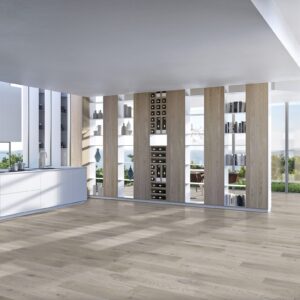 Global Winds planks are 7.5"/190mm wide, with lengths up to 75".  All are engineered European white oak floors, with an ultra-matte UV lacquer finish.
The Terra hardwood floor Collection finds its inspiration in unique natural ecosystems found across the globe.  Terra means "Earth", and from a subarctic snow forest to an open dry grassland, to a high elevation meadow, or an aromatic coastal shrubland, these ecosystems capture our imagination and serve as a reference point in the looks we created. These colors reflect our aesthetic for wood floors that appear to be raw, natural, aged in place, created by the elements of sun, wind and time: Taiga, Savanna, Chapparal, Alpine, and Montane.
Each of the Terra colors are offered in a 9.5"/240mm wide-plank format with lengths up to 86-5/8", and a coordinating 5" wide by 24" herringbone pattern.  All are engineered European white oak floors, with an ultra-matte UV lacquer finish.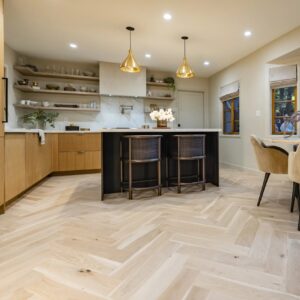 Customers choose DuChateau premium hardwood flooring for their homes because it represents the epitome of craftsmanship and quality in the world of flooring. DuChateau's dedication to excellence is evident in every plank, where meticulous attention to detail and the use of sustainably sourced materials result in flooring that not only enhances the aesthetics of any space but also stands the test of time. With a wide range of styles and finishes, DuChateau offers the versatility to match any design vision, from contemporary to rustic. Their commitment to sustainability ensures that customers can enjoy the beauty of natural wood without compromising environmental responsibility. When you choose DuChateau, you're not just investing in a floor; you're investing in a legacy of luxury and durability that will grace your home for generations to come.
We are the area's preferred DuChateau dealer and have all the samples in our design showroom for you to see. Drop on by or schedule an appointment with our knowledgeable team!